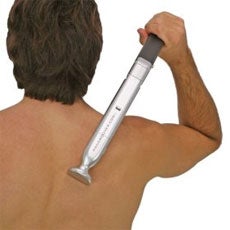 If you thought Asians weren't hairy, well, for the most part you'd be right. But in my case, you'd be as wrong as many times as I have hairs on my body—which is a lot. Luckily for me (and anyone around me) there's the MANGROOMER, a DIY electric shaver that reaches your back and rids you of your natural coat.
Since the MANGROOMER is electric, your back-ne should stay intact as you nunchaku your way to a chihuahua-like sheen. It's only $39.95 on amazon, and comes personally recommended by Joel "Bear Rug" Johnson.
A surprise bonus after the jump.