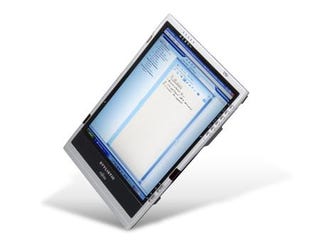 Slate's are usually wimpy. These have extra processing power, now that Fujitsu's dropped Intel Dual Core processors in their Stylistic ST5100 series.
The 10.4-inch ST5111 and the 12.1-inch ST5112 both pack a Core Duo ULV (Ultra Low Voltage) processor and can house up to 4GB of memory and a 100GB SATA drive. All the usual connections are included (USB, FireWire, Wi-Fi, Bluetooth, Gigabit Ethernet) along with some added security features like a fingerprint reader and a shock sensor utility that parks your HDD should your slate take a nose dive.
Both models weigh under 4 pounds and sound very promising spec-wise, but all that power won't come cheap. The entry level config will start at $2,199. That's kind of a lot for a machine that looks like a clipboard.