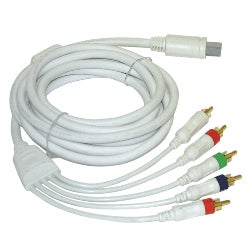 We have to admit, we're six years late to the party on this one. We just purchased a set of PS2 component cables this past weekend and have to say that there's a pretty noticeable difference between composite and component, even on an old system like the PS2.
What's the point? Well, despite the fact that the Wii only ships with composite cables, we feel it's our civic duty to remind you that you need to play the Wii with component cables. Seriously. Just get it already. And since the official ones are most likely sold out everywhere, you're probably having a hard time getting some.
Here's how to find them.
Wii Component Cables [PlayAsia - $9]
Mad Catz Component Cables [Mad Catz - $19]
Nintendo Wii Component Cables [Nintendo - $29]
EBGames Component Cables [EBGames - $49]
React Component Cables [Best Buy - $24]
Griffin Component Cables [Best Buy - $59!]
ASiD Component Cables [Frys - $39]
Blaze Component Cables - $10 (Out of stock) [Superufo]
Psyclone Component Cables [Circuit City - $59!]