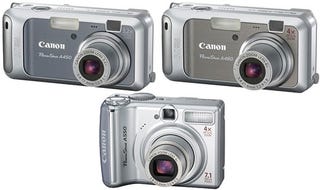 It's that time of the year when new cameras show their shiny scrubbed faces, and Canon joins in the fun with three updates to its point-and-shoot PowerShot line.
The PowerShot A460 (pictured above right) gets a bump up in pixelage from 4 to 5 megapixels and keeps the 4x zoom of its A430 predecessor, and the 3.2x zoom-equipped A450 (top left) graduates to 5 megapixels as well, up from the 4 megapixels of its A420 brother. Then there's the PowerShot A550 taking the place of the A530, now with 7.1 megapixels instead of the 5 megapixel count of its predecessor, and it also has a redesigned shooting mode dial while keeping that 4x optical zoom it had before.
Release date is slated for February, and pricing wasn't announced yet. How much will they cost? To give you an idea, all three of these cameras' forebears cost less than $150 on the street.
Canon PowerShot A450, A460 & A550 [Digital Photography Review]