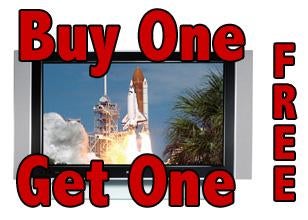 Insane. Buy one 50-inch 1080p plasma, get a 1365 x 768 50-inch plasma for free.

Purchase a Pioneer Elite Model PRO-FHD1 from a participating authorized Elite Dealer in the 50 United States and receive a 50" High Definition Plasma from that same dealer, model Pioneer PDP-5016HD, for FREE.

Offer good until March 31st, or until supplies last. The Pro is an $8000 TV, so its good they're working in an incentive like this. One for the livingroom, one for the bathroom. Nice.
Crazy New Pioneer Electronics Plasma Sales Gimmick-Buy One & Get One Free [HDGuru, Thanks Gary]