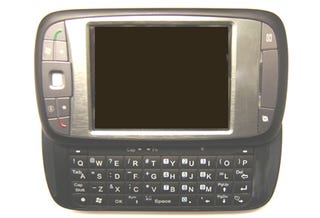 First with the Athena, and now this. HTC is dropping their photos left and right. And some more probably legitimate photos, this time of the HTC Titan, successor of the Hermes, have just made their way to the web.
The design isn't looking much different...but there are some changes to notice:
1. Scroll wheel is no longer by your left thumb while typing, but appears to be at the top of the phone instead, maybe for index finger access.
2. Caps and Function (we're guessing lights) are now on top of the keyboard.
3. Grippy back.

Do you see anything else different?
HTC Titan in the Wild [engadget]