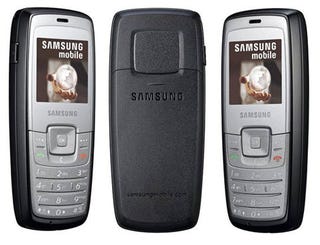 Well, it's about time. Samsung, maker of fancy-schmancy smartphones and all things complicated, decided to plunk down the SGH-C140, a cellphone that does one thing and does it well: makes phone calls.
What a concept! Even though its $57 price tag might seem like it's cheap through and through, it still has a 128x128 65K-color screen, 16-tone polyphonic tones, 3 hours of talk time, and you can store 500 contacts in its organizer. Bye-bye feature bloat, hello Samsung.
Thoreau said it best: "Our life is frittered away by detail... Simplify, simplify, simplify! ... Simplicity of life and elevation of purpose. Simplify."
Samsung SGH-C140 [Unwired View]