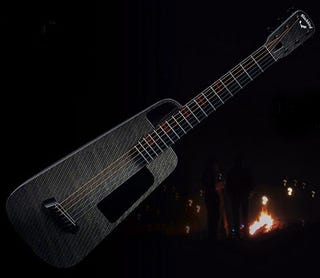 The Blackbird Rider is a guitar made out of carbon fiber that was designed using 3D CAD software. It's 2/3 the size of an ordinary guitar but makes up for that by being hollow throughout—even in its neck and head—making the entire guitar a sound box. The goal of this design was to get the sound of a big acoustic guitar in a smaller form factor that's easily portable.
More pictures, info and pricing:

Notice the sound hole is next to the guitar's neck rather than underneath the strings. Then, there's another opening called the stereo sound hole (the company calls this SSH, making it sound all scientific-like) on the guitar's head, in an attempt to maximize the resonance of this instrument.
There will be just 100 of these axes available, and pros taking this carbon fiber jewel on stage will certainly elicit the awe of any geeksters in the audience. But this Blackbird is going to have to do a lot of singing in the dead of night to make up for its $1599 price tag.
That price is not too bad, though, considering that the gold-standard Martin D-28 guitar costs at least $500 more than that.
Product Page [Blackbird Guitars]