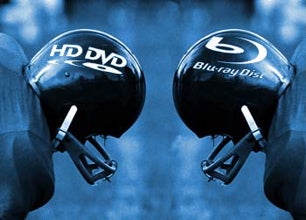 We're all painfully aware of the high-def war going on between Blu-ray and HD DVD, but CE Pro's Jason Unger brings the frontline a little closer to home as he talks with reps from both sides of the camp.
Here's a look at some of the mud-slinging that took place during his sit downs.

HD DVD on Blu-ray
Support for Blu-ray isn't as rock solid as they would like. Samsung for instance has released a laptop (the M55) with an HD DVD drive. Sure, they got 50GB discs, but there's no movie out there that requires that space. As for the PS3, they're buying it for the games, not for the movies. In 2007 we'll have 600 HD DVD titles.

Meow! Here's what the Blu-ray folks had to say in response.
Blu-ray on HD DVD
The only support HD DVD has is coming from Universal, Warner Bros, and the porn industry [amen to porn—Ed]. We have the content. Their players are cheap for a reason. In the end it's a numbers game and we have the numbers. As for LG's BH100, that ain't gonna solve anything.

At this rate, it looks like the war is gonna last forever. Unlike the Blu-ray folks, we give props to LG for trying to unite the two camps, but the only side we're taking in this war is the one with our existing DVD collection.