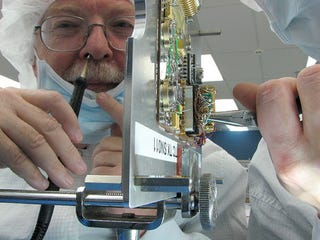 Hey guys, toss in your captions & check back later today.
So it seems like Microsoft's IPTV software isn't getting that stellar of a start. First we heard that Verizon had to go back and redo some of the code just to make it work with their FiOS TV. Now we're getting wind that "code issues" are responsible for AT&T's IPTV delay. I'm hoping they get this fixed up because I sure am sick of my Comcast subscription, and was hoping this could spur another non-satelite player in San Francisco.
And Sen. Hillary Clinton is apparently the queen of Yahoo! Answers. A couple of days ago she put up a question, and in response she got over 35,000 replies. Damn. I couldn't imagine checking on 35,000 responses to one of Gizmodo's posts.
HP just seems to be hit with one problem after another. But they definitely caught a break here. Their Pretexting (Getting personal info under false pretenses) Lawsuit was dismissed. Some thought that this would drum up worries again after last years espionage problems, but they lucked out with this one. Lets see how long, until someone else tries to leach some money out of them.
And finally we've been hearing all over the place about how Blu-ray & HD DVD's DRM is being cracked and that the sky is now falling. But there's at least one group that's not worried, the AACS. Why, you ask? Because those next gen discs are way too big to be pirated around the web. Well lucky for them nobody is speeding up download speeds or increasing Hard Drive space, wait a second.