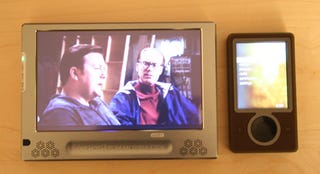 We loved the Archos 604 Wi-Fi for its large, bright screen, its hard drive storage, its TV recording, and its vast codec playback. That's why the 704 Wi-Fi, with improvements on every front, is a winner.
The 704 Wi-Fi has 80GB of storage, a gigantic 7-inch display with touchscreen (a wonky 5:3, which is almost 16:9 and not quite 4:3), 802.11g connectivity, the same DivX playback, 16 hours music playback and 5 hours of video playback.
In the brief time we've had to play with it so far, we loved the screen, but thought the player was just a smidge too big to carry around without a bag. The price of the 80GB version is $549, which may be a little high unless you use this thing a lot. But all in all it's the best portable video solution we've seen short of taking a Laptop with you on your commute.
We'll have a more in depth review for you soon.
Product Page [Archos]