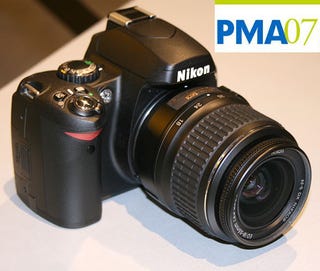 Here's that Nikon D40x DSLR that's been bumped up to 10.2 megapixels from its D40 brandmate, with 3fps shooting instead of the 2.5fps of the plain ol' D40, as well as longer battery life and slightly wider ISO range.
But the hands-on experience reveals a lot more, where the Nikon click sound is more of a ca-lunk that's aurally pleasing, and the general feeling is one of solidity even though this is the lightest and smallest DSLR on the market. I like this $799 camera, even more than my Canon XTi.
Plus there's that long image-stabilized 18-200mm Nikon lens I've been lusting after. That aside, this camera's definitely on the bang-for-the-buck radar. If they would just add that Live View feature sweeping the DSLR world...rumor has it Nikon's working on it. Jump all over that gallery down there to get the feel for the Nikon experience.