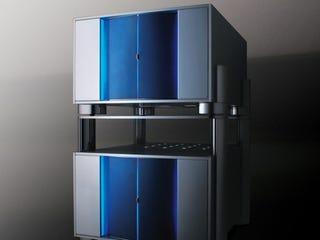 To the un-rock'n'roll like me, the object above looks like a TV cabinet, or a disco oven - but, like I said, I've never had much of a fever for cowbell. This is the Stratos from Hovland, an amp that was 20 years in the making. And this is the price: $50,000. More on what it has and what it does (and doesn't) after the jump.


400W of power into 8 ohms, 625W into 4 ohms and 800W into 2 ohms.
Measurements are 356mm x 244mm x 476mm
Weighs in at a hefty 41kg per channel.
Will give you more cowbell (probably), grief from your other half (definitely), but no 11 on the volume. Shame.
Product Page [Hovland via Tech.co.uk]