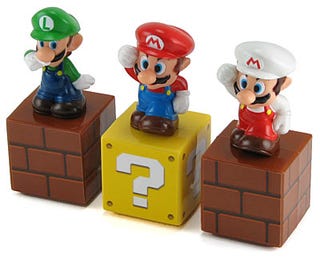 Super Mario Bros. Sound Blocks just sit there on your desk until you press down on their heads, and then four different familiar and authentic sound effects emanate from within.
Both your old pals from the classic Nintendo game are there, Mario and Luigi, forever immortalized in 3" desk ornaments that actually make those sounds that will take you back to those halcyon days when you didn't have to work and your mom made you cheese sandwiches that tasted like shoe polish.
Too bad ThinkGeek won't let you choose exactly which one of these $4.99 figures you actually want, where you have to accept their random choice.
Product Page [ThinkGeek]