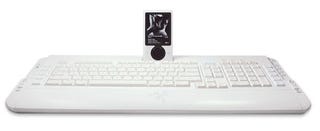 Remember the Zune Pro|Type keyboard renders we saw last year? There wasn't much information then, other than 32KB of memory on board, but we just got some new shots in right now.
As you can see (with more after the jump), it's a keyboard. With a Zune dock. What did you expect?
But as long as the keyboard is pretty decent, consolidating two gadgets—a dock and a keyboard—into one is always good in our book.

Thanks tipster!