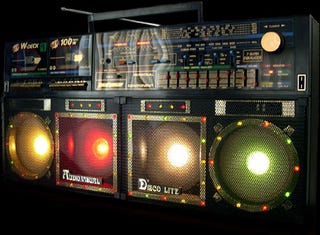 I like today's gadgets just fine, but there's definitely something missing from the squeeky clean lines and soon buttonless faces of iPods and the like. I don't know exactly what that missing thing is, but I know I see it when I look at the analog, knobbed squalor found in Pocket Calculator Show's Boombox Hall of Fame. My favorites include Sanyo's 20-pound MR-X20 "Big Ben" with the sub nestled between its driver cabs; Discolite, with its multi-hued lights that flash behind speaker grills; the Sharp VZ-2500 with a record player in its face. And best of all, the musician's friend, the Sharp MR-990 Melody Searcher, with its built in Synthesizer/Keyboard/Drum Machine.
I'll be happy once the minimalist trend ends and gadgets get gnarly again.

Check the gallery, but don't miss clicking through to Pocket Calc's site for history on each.

Boombox Hall of Fame [PocketCalculatorShow]