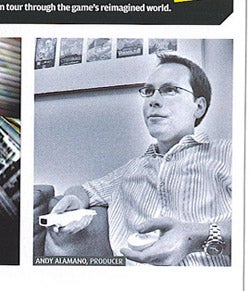 A reader sends this tip culled from the pages of our favorite magazine when we were 10, Nintendo Power. He notes, as seen on the right, that Andy Alamano, the producer of Alien Invasion, is holding a Wiimote and Nunchucks unattached. Does this mean there's going to be wireless (Bluetooth?) Nunchucks for the Wii soon? We doubt it.
We grade this rumor a 20%, since the photo was most likely taken with the Nunchuk cord hidden behind the hand, out of view for aesthetics' sake. Sure, wireless Nunchucks sound cool, but they'd be another thing to charge and would require a wrist strap as well so people won't fling them like they will the Wiimotes.
Thanks for the tip Marc, but we think this one's a bit unlikely. Check out the large version after the jump to see for yourself.