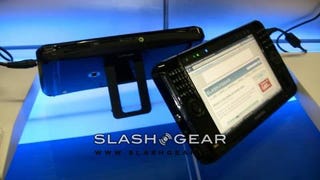 If you saw the mini Samsung Q1 gallery earlier, you would have a hint as to why it could be one of the best UMPCs yet. Slashgear fills in the gaps.
Besides the 3.5-hour battery life on a 4-cell battery (6.8 on a 6-cell), there's the QWERTY keypad and full screen viewing of web pages by "pen flicking"—a method similar to the flicking on the iPhone. There's also a cool fingerprint reader, a video chatting camera, a bright 1024x600 screen, HSDPA, WiBro, and DMB.
If everything turns out as great as the specs, this could just be the UMPCs for people who don't really think they need a UMPC.
Slashgear at CeBIT: Everything you want to know about [Slashgear]