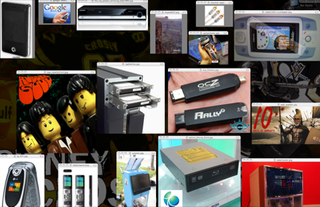 So what's going on today? A whole lot of solar power, that's what. Both a Nintendo Wii & an air conditioner get the solar treatment. So when those rolling blackouts come back we'll be able to stay cool and play some Wii Sports.
Also there's a 1-year review with the iRobot Scooba. How did it do? Not so good, I'm glad I didn't buy one on clearance last week at Target.
Also we went out and found just about every review possible on two mid-priced HDMI receivers. And then, using our amazing Gizmodo powers, mashed them all together into one easy to read head-to-head comparison.
New details and a picture popped up of the Sidekick ID. It will basically be a Sidekick 2.5, so get ready if you get your kicks from new versions of yesterday's gadgets.
And there's more in the pipes, so stay tuned.