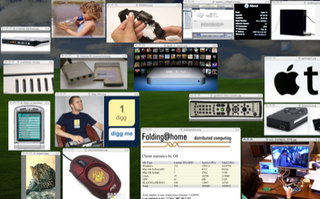 Weekend, the sultry mistress, has come yet again. So to get ready, come check out what Giz has been working on all day.
First off our own lab rat, Louis Ramirez, is trying to save what is left of his lush head of hair with the Laser Comb. While there aren't any results yet, we're hopeful that some of it will grow back eventually.
The PS3 has obliterated the other folding@home competition. With only 13,000 PS3 running the program, it jumped to the number one spot counting for over 56 percent of the computing power in the program.
Last week we asked you how Adam Frucci should destroy his Motorola V710 cellphone. You voted to let it burn. And burn it did, check out the video.
And finally, we answered those lowly questions that until now, were still unanswered about the Apple TV. And as always send in any other questions, concerns, or paranoid conspiracy theories you have about any new gadgets here.
Now go and have some fun. Unless you work weekends, in that case get ready for work.