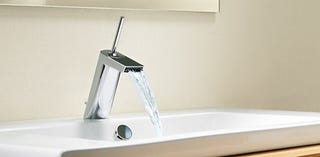 Hansa's Hansastela, or Joystick Faucet as it will be called until the end of time, is meant to "create an unusual and futuristic appearance" in your bathroom. Meanwhile, the use of a joystick is logical, especially for those with experience flying jets/playing Atari. Now, if we only hook this faucet up to one of these mirrors, gamers can finally enjoy Halo II via slight stretch from the throne.
Sure your water bill may double as you spend so much time in the bathroom, but at least you'll start washing your hands.
Hit the jump for another Hansa design.

The Hansaclear Lux allows your wife to choose the color of her new "joystick" (as you neglect her playing with the sink).
New Hansa Products [via trendir]