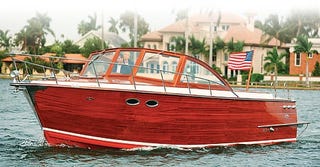 Is the boat free, or is the membership thrown in? It's a tough call. But what we do know is that Sam's club is offering quite the delectable combo at the moment.
The Windsor Craft 36 immediately evokes heartfelt nostalgia for wooden boats of a bygone era, and yet it has all the advantages of being a thoroughly modern boat...hand-crafted in Turkey by old world craftsmen who, with an expert eye, select each mahogany plank.
But we want to hear more about this membership! Sure, even a lifetime of Clubbing still only saves you $40 a year. But what if you live to 12,000?
Didn't count on that one, did you?
Product Page [Sam's Club]
Thanks Pavel! We thing this was just spammed to us, but funny nonetheless.