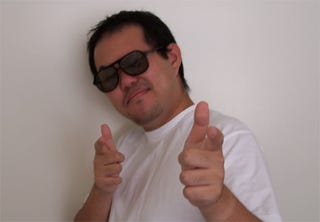 Ok, before everyone starts yelling "not news" in the comments, let me at least rehash the story.
Gina Hughes, editor of often-weekend-linked site TechieDiva, was proclaimed one of GeekSugar's "A Geek We Love"(s). During her interview, she had this to say when listing her 5 sexiest men in tech:
Jason Chen - Any guys who sticks electronics down his pants is pretty damn sexy.
Hmmm. We always liked Jason for his mind and his heart. Women can be all about the one thing. And on a side note, isn't it a bad thing that Jason has so much open space in the drawers?

UPDATE: Apparently Charlie White is SUPERHOT, too! Check it out here.

Geeky Girl We Love: Gina Hughes [geeksugar]