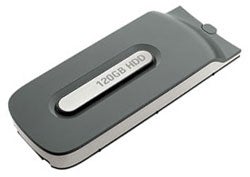 Nowadays external hard drives ain't that expensive. You can easily find an external 120GB HDD for around $90. So what's up with MS charging $179 for their Xbox HDD?

If you compare what we are offering with a real plug-and-play drive, the closest thing would be to take a 120-gig self-powered external PC drive, and in that case we are seeing those retail at anywhere from $160 to $200.—Aaron Greenberg, Product Manager
Unless this drive has some super, secret powers, I still think it's overpriced. But unfortunately, it's the only way to up the memory for now.