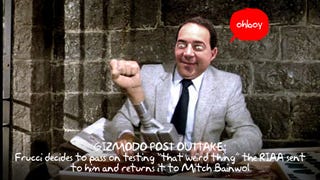 Dear Charlie, Louis, Wilson, Adam and co.
Handover time. Friday too, that REALLY makes me happy. As do Singing Nuns, yellow flip-flops and fluffy alarm clocks.
Here's Solid Alliance's latest offering: an animatronic seafood USB hub. Oh, sorry, my mistake. It's a plate of live octopus tentacles that one lucky Giz reader got to sample in a South Korean restaurant.
Our esteemed editor road-tested the HDMI video on the Xbox 360 Elite. If it's all about the image for you, then the Elite has got your name all over it.
Clicky clicky and there's more after the jump.
And you gotta love the RIAA. I mean, they never stop trying to entertain us, do they?
It seems that even Steve Jobs is a fan of our iPhone non-news - so much so that he's written today's installment himself. Brian, you should give him a job, Cat can really write.
And finally, if you're stuck for something to do over the weekend, how about dismantling the car and making your own robot with the parts. It'll be just like an episode of The A-Team.
Enjoy your weekend, I'm spending mine to torturing the neighbourhood cats.