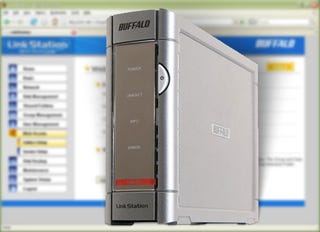 On Monday, Buffalo Technology will release Web Access, software that will let you access any of Buffalo's LinkStation Live NAS (network attached storage) devices from anywhere on the Interwebs. There's no software to hook up; you just use any Web browser to connect to Buffalo's website, enter the secret name of your LinkStation, and boom! You're connected to all your stuff.
The site goes live on Monday, and all you'll need to do is upgrade the firmware on any LinkStation Live NAS unit, and you're good to go. Take a look at the exclusive preview gallery of screen shots below, and on the next page, see what else this system can do, and get an idea of the LinkStation live hardware, too.
In addition to accessing all your files, you'll also be able to stream MP3s from your storage device. LinkStation Live units can also function as iTunes servers, so you can access iTunes from anywhere on the network with data rates of 35MB per second. Web access only works with LinkStation Live units, and they're available in four different flavors: 250GB for $229, 320GB for $249, 500GB for $349 and 750GB for $649.
Linkstation Live Product Page [Buffalo Technologies]