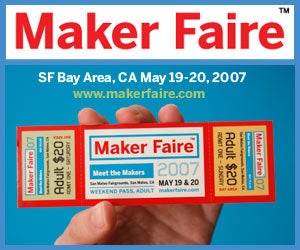 I'm heading to Maker Faire this weekend, so any readers who are there should stop by and say hello on Saturday (that is if you can find me!) Otherwise, it seems like some Pokemon, some cleaning, some reviewing of gadgets, some Guild Wars, some Xbox 360, and some outdoors time. Ahh, the outdoors. How infrequently we meet.
Speaking of which, I know someone who's thinking about getting laser eye surgery done. Anyone have some experience with it? If so, leave a comment. Here's how:


1) Choose a post, click on it, and scroll to the bottom.
2) Click "New User? Here's what to do."
3) Fill in the comment, choose a username and password (the one you want to use for your eventual comment account), and hit "Submit."
4) Refresh the page to see if your comment shows up. If it hasn't within a day or two, try again with a less nearsighted comment.