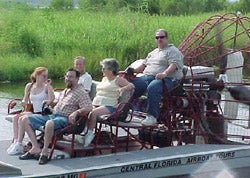 As you probably know, I went to Maker Faire this weekend with Lam and a few other familiar faces. But that's not all! Because it's getting so warm here in San Mateo, people are going out on rented motor boats and kayaks and all kinds of boats on the man-made lakes here.
There's one guy who stands out in particular. He has this large Airboat—like the kind you see in Florida riding through the swamps—that makes a crapload of noise when it passes by the water right next to my window. It looks fun, but boy is it loud.
Speaking of loud, here's how to comment:
1) Choose a post, click on it, and scroll to the bottom.
2) Click "New User? Here's what to do."
3) Fill in the comment, choose a username and password (the one you want to use for your eventual comment account), and hit "Submit."
4) Refresh the page to see if your comment shows up. If it hasn't within a day or two, try again with a less noisy comment.