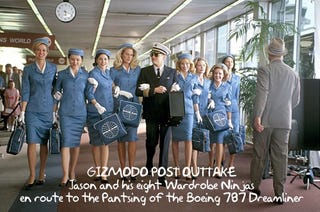 Buy one of these gigantastic 787 Dreamliners and you'll get the trolley dollies for free.
Face it, we all love rumors about our favorite company in Cupertino (is there any other there?) and what they've got in store for us specially if it means better new iMacs.
Irregular guys might like to twist up a phat one and try and solve an irregular Rubiks cube.
Negroponte and Barrett in a bitch-fight, OLPC and Intel...oh, who cares what they're tiffing about, just enjoy the Mike-Judgeish artwork.
But if you really want a technological bitch-fight, check out the CableCARD Vista Media Center PC vs Tivo Series 3 vs Batman vs Spider-man vs Captain Kirk battlemodo.