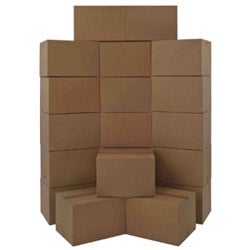 I decided that yesterday was the day that I would clean out all the boxes from my apartment. Imagine getting multiple packages every day for months on end. That's a lotta boxes. So I spent the whole night breaking them down and watching the season finale of 24. What a letdown that was! At least they cleaned up the whole plot mess to give the next season a clean start. More Jack Bauer, less lousy romantic plotlines.
Speaking of mess, I've got a gadget review for tomorrow that makes it easy for you to find stuff even if your home's messy. It's pretty neat.
Want to comment? Here's how:
1) Choose a post, click on it, and scroll to the bottom.
2) Click "New User? Here's what to do."
3) Fill in the comment, choose a username and password (the one you want to use for your eventual comment account), and hit "Submit."
4) Refresh the page to see if your comment shows up. If it hasn't within a day or two, try again with a less messy comment.