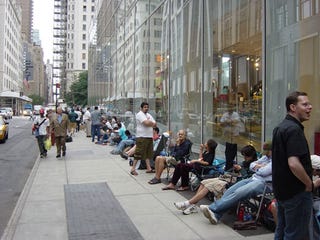 Remember that line at the 5th Avenue Apple Store we showed you last night? Well, it's gotten a little bigger. Now about 130 people long, the line grows at a steady trickle–single campers, pairs, and groups pass by as we write this. It's overcast and a little chilly, though the temperature is estimated to rise into the 90s before these folks see their iPhones. Check out the gallery for some of the creative sleeping solutions.
This is about where the line was last night, at the corner of FAO Schwartz:
Here's the last guy in line. See the corner down there at the end of the block? By the time we'd walked the line again, there were about 15 people after this guy.
Now if these news crews would just share some of their bagels...