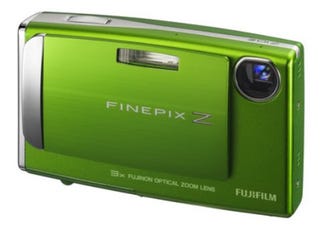 This is the most colorful and cheesy of Fuji's camera blitz today. It's a slim fashion phone that the press release claims, to "flirt with youth." Never mind the generation Z target demographic, the Z10fd has 3x optical zoom, 2.5-inch lcd, slideshow mode, face detection tech with auto red eye removal, IR beaming, a blogging mode which reduces photo size on cam for EZ downloadin' to myspace, etc.




It does 320x240 video capture, can scale the power of its flash, has dual shot mode for back to back shots (with and without flash). and SD card compatibility on top of the crappy xD flavor we've come to not ever, ever use. The Li-on battery is good for 200 shots. The camera takes photos at up to 1600 ISO, which is what they market as image stabilization. Not really honest, if you ask me.
Competition includes the Nikon Coolpix S200, Sony's T100, and one of the random powershot cameras (possibly the SD1000 or SD750).
FUJIFILM TAKES ON GENERATION 'Z' The New 7.2 MP FinePix Z10fd Style-Cam Features Cutting Edge Technology that Flirts with Today's Youth

Valhalla, N.Y., July 26, 2007 - Responding to popular demand to be 'hooked up' at all times, FUJIFILM U.S.A. Inc. today unveiled a brand new digital camera designed specifically for today's fashion-conscious digital natives. Combining cutting edge technology with style and sophistication, the FinePix Z10fd provides tech-savvy Gen 'Z' users with an eye-catching digital camera that makes it easy to take great pictures and share them with the press of a button.

The 7.2 MegaPixel FinePix Z10fd features an ultra-portable design, making it easy to take this sexy micro-mini camera anywhere you go and it comes in five brilliant colors to match the latest styles of today's fashionistas - Wave Blue, Wasabi Green, Hot Pink, Sunset Orange, and Midnight Black. It also sports a Fujinon 3x optical Zoom lens, 2.5" LCD screen and packs 54MB of internal memory to give you some extra room when your memory card has had its fill. With its stunning high-resolution LCD, the FinePix Z10fd also has a cool new slideshow mode from Fujifilm that let's you view and share your photos spontaneously with friends with music provided to help set the mood.

Face_it, Beam_it, Blog_it

With endless possibilities the FinePix Z10fd makes it easy and fun to stay connected with friends and family and share all life's moments through technology

Face_it.

Capturing the ultimate party pictures will never be an issue with the FinePix Z10fd, as it features Fujifilm's innovative Face Detection Technology. A one-touch selectable mode that identifies up to 10 human faces in a scene, Face Detection Technology sets the correct focus for a chosen primary face and exposure for all detected faces automatically, regardless of where subjects are located within the frame. It can cope with back-lit scenes such as concerts and it also comes in handy for capturing the perfect self portrait. The Z10 also includes a new Automatic Red Eye Removal feature, that works in conjunction with Face Detection. Red eye is a common complaint given by 60% of digital camera users. Z10 instantly checks each detected face for red eye, and if it's found, corrects it automatically, saving the time consuming process of fixing it in your PC after the image is downloaded.

Beam_it.

The FinePix Z10fd comes equipped with Fujifilm's innovative IrSimpleTM technology for fast, easy wireless image transfer to any IrSimpleTM equipped device. With the FinePix Z10fd you can capture the moment, point to a similar device and share the image instantly with friends - so instead of making an innocent r take the group photo with five different cameras, they'll only have to take it once and IrSimpleTM handles the rest.

Blog_it.

Also making life easier for the bloggers of the world, the FinePix Z10fd comes equipped with Fujifilm's handy Blog Mode that lets you post pictures to blogs, websites, auctions, or e-mail with ease by copying and automatically resizing any image you've captured to a properly sized 640x480 (VGA) (or 320 x 240) image size, right in the camera, saving time from downloading it and adjusting it on your PC.

In addition to these innovations, the FinePix Z10fd is hooked up with the following fantastic features:

Picture Stabilization: Picture Stabilization utilizes higher sensitivities, up to ISO 1600 in the Z10fd, (with an incredibly high signal to noise ratio for clean images), and faster shutter and operational speeds to help reduce camera shake, freeze subject movement and improve low light background detail.

i-Flash Intelligent Flash: i-Flash detects subtle lighting differences within a scene, and then varies the flash intensity accordingly. It also leverages the high sensitivity of the Z10fd to enable the camera to use less flash, preventing that "blasted with light" effect that so many digital camera flashes leave you with. The result is pleasing, natural tones with no flash "wash-out".

Dual Shot Mode: In this mode, the FinePix Z10fd quickly shoots two images in succession — one with and one without the flash — saving both. This convenient function lets the user perform an on-the-spot picture comparison and decide whether the FinePix Z10fd produced the most pleasing photo with flash, or without.

Special Scene Modes: The FinePix Z10fd has 14 scene positions including Fireworks, Beach and Snow, offering a one-touch setting for almost any situation.

xD / SD / SDHC Compatible slot: A new single media slot accepts both xD Picture Card and SD/SDHC media cards. One slot - two media options.

Battery Life: Long-life rechargeable Li-ion battery (up to 200 shots).

"Fujifilm recognized that today's younger generation wants to be connected with their friends at all times and that there wasn't a digital camera manufacturer that really addressed this." said David Troy, Senior Product Manager, Consumer Digital Cameras, Electronic Imaging Division, FUJIFILM U.S.A., Inc. "We decided to create a camera that would mesh our latest technological advancements with today's popular trends and styles, and came up with the Z10fd."

Win_it.

Further information on the FinePix Z10fd will be available at HYPERLINK "http://www.offZhook.com" www.offZhook.com, the official website created especially to celebrate the 'Z-Lifestyle,' when it goes live on August 1st. Along with a myriad of fun downloads and interactive displays, aspiring photographers between the ages of 18 and 24 will have the chance to submit original photos in a competition that will award 4 lucky winners with a VIP trip to New York to attend the Z10fd launch party in October.

The FinePix Z10fd will debut in late September at a retail price of $199.95.

About Fujifilm

Fujifilm brings continuous innovation and leading-edge products to a broad spectrum of industries including medical, life sciences, consumer electronic, chemical, graphic arts, information systems, photography and office products based on its vast portfolio of digital, optical, fine chemical and thin film coating technologies. The company provides products and services that contribute to the advancement of culture, science, technology and industry, as well as to improved health and environmental protection. It is the global leader in digital minilabs; Computed Radiography systems; ink dyes, pigments and UV inks for inkjet printers and materials used in the production of flat panel displays. It was ranked number 15 for U.S. patents granted in 2006, employs more than 75,000 people worldwide and in the year ended March 31, 2007, had global revenues of $23.6 billion.

FUJIFILM U.S.A., Inc., Valhalla, NY, is a U.S. marketing subsidiary of FUJIFILM Corporation, Tokyo, Japan, providing digital and analog photographic Imaging Systems, Recording/Storage Media and Motion Picture Film products and services to consumers, professionals and businesses.

For more information on FUJIFILM U.S.A. products, customers can call 800-800-FUJI or access the FUJIFILM U.S.A. Web site at HYPERLINK "http://www.fujifilmusa.com/" \o "blocked::http://www.fujifilmusa.com/" www.fujifilmusa.com. To receive news and information direct from FUJIFILM U.S.A. via RSS, subscribe free at HYPERLINK "http://www.fujifilmusa.com/rss" \o "blocked::http://www.fujifilmusa.com/rss" www.fujifilmusa.com/rss.

###

All product and company names herein may be trademarks of their registered owners.

FinePix Z10fd Digital Camera - Specifications*

CCD sensor

1/ 2.5-inch

Number of effective pixels

7.2 million pixels

Number of recorded pixels

Still image: 3,072 x 2,304( M) /3,072 x 2,048(3:2) / 2,304 x 1,728/ 1,600 X 1,200 / 640 X 480

Storage media

Internal memory (approx. 54MB) / xD-Picture Card TM ( 16MB - 2 GB ) /SD memory card /SDHC memory card

File format

Still image : JPEG (Exif Ver. 2.2)

Movie : AVI (Motion JPEG)

(Design rule for Camera File system compliant / DPOF-compatible)

Recording Capacity with 256 xD Picture Card (not included)

Still Image Movie

7MP(F) 7MP(N) 3:2 3MP 2MP 0.3MP 640x480 320x240

73 146 164 257 410 1,999 Approx. 4.6min Approx 7.4min

Recording Capacity with 512 SD memory card (not included)

Still Image Movie

7MP(F) 7MP(N) 3:2 3MP 2MP 0.3MP 640x480 320x240

143 286 322 503 793 3869 Approx. 9.1min Approx 1.5min

Recording Capacity with 4GB SDHC memory card (not included)

Still Image Movie

7MP(F) 76MP(N) 3:2 3MP 2MP 0.3MP 640x480 320x240

1,124 2,229 2,502 3,955 6,131 30,655 App.70.5min App113.5min

* A movie recording will stop automatically when the movie file size becomes approx. 2GB.

Lens

Fujinon 3x Optical zoom lens , F3.7 - F4.2

Lens focal length

f=6.63mm - 18.9mm, Equivalent to 38-110mm on a 35mm camera

Digital zoom

Approx. 4.8 X

Aperture

Wide-angle: F3.7/8

Focus distance

Normal : Approx. 60cm/2.0 ft to infinity

Macro: Approx. 8cm/3.1 in to 80cm/2.6 ft

Sensitivity

AUTO/Equivalent to ISO 64/100/200/400/800 /1600(Standard Output Sensitivity)

Exposure control

TTL 256-zones metering

Exposure mode

Programmed AE

Shooting mode

Auto, Manual, Natural Light, Natural light with Flash, portrait, Landscape, Sport, Night, Auction, Sunset, Snow, Beach, Museum, Party, Flower, Close-Up, Text, Picture Stabilization, Movie

Shutter speed

3 sec. to 1/1000 sec. (depend on exposure)