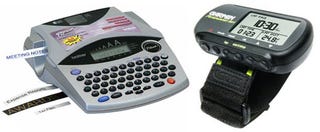 We're always showing you the latest and greatest here at the Giz, but here are some dirt-cheap prices on ancient yet
ber-useful gear you might have overlooked. On the left is the Brother P-touch PT-1950 desktop labeler, which we have found extremely useful for labeling all kinds of things, namely the spaghetti bowl of wires in our server closet. The most remarkable thing is its price, normally $130, it's $40 (69% off) at buy.com.
You might also recognize the Garmin Forerunner 201 wrist-mounted GPS personal training device, which we have personally tested and can vouch for its dependability, accuracy and effectiveness. In fact, it acquires satellites about twice as quickly as its dumb successor, the Garmin Forerunner 205, which looks better but performs much worse and costs $222. Pick up the 201 for $88 (48% off) at Amazon.
By the way, here's a tip: never mind the heart monitor of the more-expensive Garmin Forerunner 300 series—it's a pain in the ass to put on and wear, and anyway, who cares how fast your heart is beating? You're exercising, mkay? Your heart is beating fast. You'll live.
Today's Deals [Bargain Jack]