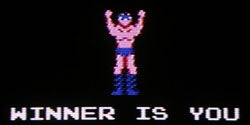 Hey, how would you like to win a year's worth of free movies from Netflix or Blockbuster? (Your pick.) It's easier than it should be.
Click here and take the little survey. Then email surveys@gawker.com and tell them what the last question was. Boom! You're entered in the contest, which is subject to all of the usual rules.
It's easier than writing this post, which took a lot of hard work and typing and stuff.