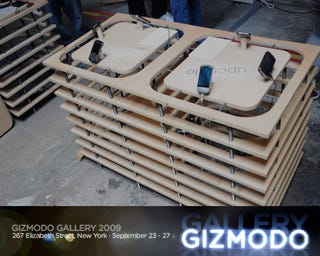 OK here's your chance to permanently own a piece of the magic that was Gizmodo Gallery '09. The whizkids over at Upcycle Design who designed all our furniture, are putting all the pieces up for sale. The furniture is here all week for pickup.
All the furniture was made from single sheets of maple plywood, and was designed so that no materials went to waste. There are tables, stands, desks, display cases and a few other custom pieces, so come by and take a look at them. Here's the rough, approximate pricing list.
Cubes: $75 a piece




Display Cases: 40 to 60 depending on size




Gizmodo Desks: $225

Lego Bins: $225 with Legos




Greeting Desk: $225




Netbook display: $125


If there's something you see and want to make an offer, feel free. Just shoot an email over to gallery@gizmodo.com with the subject line "Gallery Furniture".
Read more about our Giz Gallery 09 here, follow @gizgallery on Twitter and see what else we'll be playing with at the event. And special thanks to Toyota's Prius — without their sponsorship, there would be no Gizmodo Gallery.