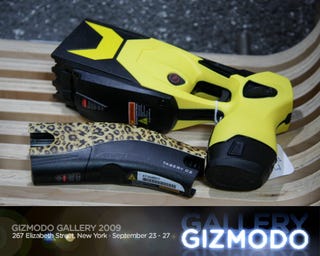 It's kind of sad to think about, but after today, Giz Gallery is over. And with our Taser demo at 2p today, we plan to go out with a shock.
Sadly, the whole "we're gonna actually tase someone" thing fell through due to a ridiculous amount of red tape and scheduling conflicts, but a rep from taser will be out showing the X3 in action (long distance probes!)
But we've had some good times at Giz Gallery. We got the 103-inch TV settled, we took a moment to consider the usefulness of the DoggieLoverDoll (not one dog had the balls to fuck the thing—literally), we ate some pancakes (among other things), and we basically never want to listen to the Beatles ever again. So come by before 6p today and say your farewells. It's been a fun week.
Read more about our Giz Gallery 09 here, follow @gizgallery on Twitter and see what else we'll be playing with at the event.And special thanks to Toyota's Prius — without their sponsorship, there would be no Gizmodo Gallery.