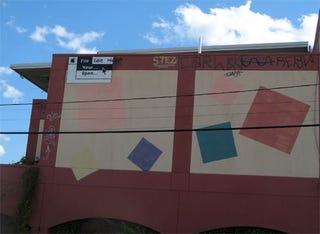 Spotted by a reader outside of Providence, Rhode Island (what isn't "outside of Providence" in RI, anyway?), some charming little OS-9-themed graffiti on an abandoned nightclub. Wallpaper-sized shots after the jump.
From afar, the scene is a little more grim (click for larger version):


And seeing it up close makes me wish for a full-length menu bar:

Still though, if you need to indulge your fanboyism, please, do it like this. —Thanks, Tristan!