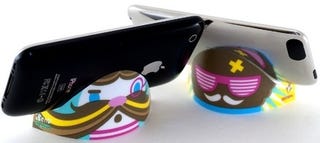 iBend iPhone Stands are flimsy, foldable stands that you can tuck into your wallet or purse without difficulties. And now these bulimic-looking stands are available in a special Artists Series to make spending eight bucks on plastic sheets more appealing.
The Artist Series designs are by Michael Bartalos, Joshua Davis, and MEOMI and they look pretty cool, but the whole light and thin aspect of the iBend cases makes them seem completely flimsy and useless, despite being the supposed appeal:
Weighing in at less than 1 gram and thinner than a few sheets of paper, the iBend is the most travel-friendly iPhone and iPod touch solution for hands-free viewing and sharing on-screen mobile entertainment in the landscape position. When not in use, just slip it in your wallet or behind any protective case for quick storage and easy access.
The Artist Series and the iBend Classic come two to a pack and "can be purchased for $7.99 and $4.99, respectively." Seems a bit silly to waste that on a rolled up piece of plastic, but even I'm kinda tempted by the funky mustache donning one. [iBend]