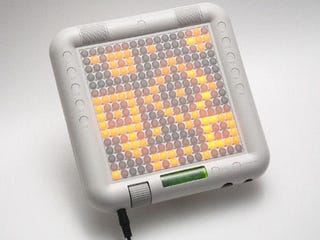 The Tenori-On remains one of the most eye-catching, hypnotizing ways to make music, and Yamaha has a cheaper model coming in January. Unlike the original, it can't use batteries, has plastic casing, and the LED-lights only show on one side.
But it will also cost $800 or less by the time it hits stores (the MSRP is $1000). The original (Tenori-On W) was $1200 when it arrived last year, but the official U.S. distributor has since dropped it down to $1000. You even get a free 2GB SD card.
The original Tenori-On W is also getting an OS update in January. No word yet on what that might include.
By the way, if you're super tight (and have an iPhone), you could also give the Tenori-On-like Melodica or PacklSound1 apps a go. [Yamaha]