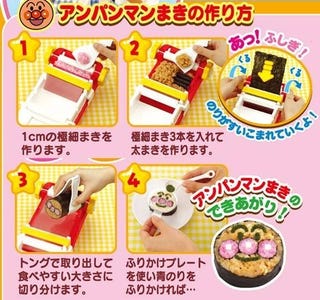 I don't know how to make adorable sushi rolls for bento. If I did, I'd be munching on a super saiyan's face right now.
Bandai feels my pain, however, and has released this nori maki maker. Dishwasher safe, the set comes with all the necessary tools and instructions to recreate your favorite characters from Anpanman. Now while I've never watched the show, I'm pretty sure these rosy-cheeked characters aren't tossing around Kamehamehas. And until they do, I'll pass on the ticket to Japan to pick one of these up in Japan for about $55. [Bandai via technabob]

* I should note, I hate that adverbs, and more specifically the use of "ly" suffixes, are struggling in our lexicon. Then again, I do love me a good rhyme.