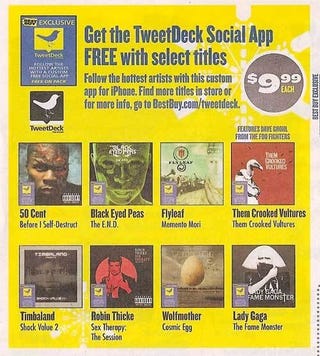 Bundling a free Twitter iPhone app preloaded with your label's artists with CDs: fine. Advertising said bundle: also fine! But pitching this app as an "exclusive" deal, as if it isn't always free? Come on, guys.
But hey! Maybe this custom version of TweetDeck is really really good, and since all iPhone apps have to be sold—or in this case, given away—through the App Store, it must be listed somewhere, right? Well, not under Interscope, not under Best Buy, and as far as I can tell, not under anything obvious. Says the product pages for eligible CDs:
Follow these steps:
-Select a CD below.
-Click the Add Items to Cart button at the bottom of the page. The TweetDeck download instructions card will automatically be added to your cart.
There don't appear to be any download instructions in the cart item, so to someone who doesn't know better, it would look like the only way to get this app is to buy one of the eligible CDs.
Best of all, this EXCLUSIVE Twitter app comes with unlimited free Tweets from whoever you follow. Only at Best Buy! [Consumerist, TweetDeck on iTunes]