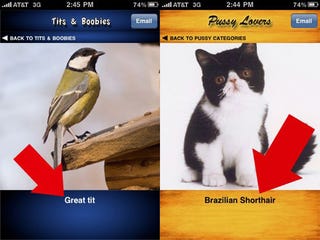 Tits & Boobies and Pussy Lovers
The Price: Free
The Promise: Tits, boobies, pussies.
The delivery: Tits, boobies, pussies, as in birds, birds and cats. Basically harmless since it's a free joke app, but it could have just as easily been approved as a paid app. It's raw bait, and got pulled yesterday, but only after we started writing about it.

Price: $1
The Promise: 3D naked girls. It actually says "naked."
The Delivery: 3D girls, not naked. They look like Real Dolls with bathing suits on. If your girlfriend caught you looking at a normal BOOBZ app, she might get angry. If she caught you looking at this, she'd probably just be worried. UPDATE: The app has been updated with new models, some of which are indeed naked, insofar as 3D models of human beings can be considered as such. Score one for honest advertising; score 10 for dragging sex into the uncanny valley.

Price: $1
The Promise: Wobbling boobs, with users input.
The Delivery: This app is primarily BYOBoob, and the wobbling effect is kind of crappy. This is a porn app only if you make it a porn app; you can just as easily wobble photos of eyes.

Price: $1
The Promise: To put the "booty" back in "clock"
The Delivery: A handful of photos of asscrack, with a digital clock overlaid. For what it's worth, you can add your own photos, so at least it's possible to get actual nudity here, even if it's yours, and disgusting. This also raises the question: how much butt is too much butt for the app approval team? Do they have diagrams?

The Price: $1
The Promise: Porn star Tera Patrick in some kind of puzzle. Nudity isn't promised, but it is implied.
The Delivery: Yes, Tera Patrick is there, and so is a puzzle. They're even combined! But Tera Patrick, porn lady, is never nude here. She makes her living inserting various parts of other people into various parts of herself without any clothes on, but the closest we can get to that in the App Store is to put her in a bikini, chop her into pieces and shuffle her around.

The Price: Free
The Promise: 1,100 Asian Boobs
The Delivery: There are at least 1,100 asian boobs here, and possible upwards of 2,200—it's not clear if the title refers to raw boob count, or humans with boobs. But either number is generous, as a cynic might say this app has zero asian boobs, because they're all covered with clothes. By this logic, every photo of your mother every taken is actually a photo of TWO BOOBS. At least it's free, if a little ad-riddled.

Amateur Pasties—Real Hot Sexy Girls
The Price: $1
The Promise: The title literally promises inexperienced pasties, which doesn't make sense. That said, a reasonable person will expect to see amateur pastie wearers, specifically in the form of "real hot sexy girls."
The Delivery: Amateur pastie wearers, in a relatively small quantity. Lots of the girls are making duck faces, and as intern Kyle notes, some of these photos, and the pasties therein, "clearly" aren't "ready for the big time." Charitable!

3D Girls Player—see the hot sexy Girls for real
The Price: $1
The Promise: Hot sexxxy girls, somehow rendered in 3D. It's like they're really there! (And really small!)
The Delivery: Headache-inducing stereoscopic side-by-side photos which you have to defocus your eyes to look at, or that are rendered in seizury two-frame animations. In the pictures, fake tans hide infinite human sadness.

The Price: $3
The Promise: "Fit, chiseled bodies"
The Delivery: There aren't so many dudes in the skeezy section of the App Store, and for whatever reason that bar on dude apps is even lower. This one has a fair selection of photos, but only adds one a week. And they're just photos of dudes with their shirts off! You can find dirtier material in the checkout line at Safeway.

The Price: $4
The Promise: Sexy videos. Sexy videos. Sex videos. Sex.
The Delivery: Over 50 videos of ladies, projecting various levels of sexiness. It's better than photos, but not really: these clips are like the free, teasing previews you'd find on a real porn site, except you have to pay for them, and there's nothing more to see.

The Price: $1
The Promise: To make checking your battery life a vaguely sexual experience.
The Delivery: You have to open the app to check the battery life, since Apple doesn't let you modify the actual iPhone battery readout. The app basically just chops the model's body according to how much charge is left. It's more terrifying than sexy. It also looks like it was coded in about four minutes, possibly with one hand.

Click here to go back to the original post