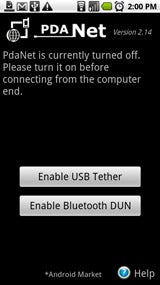 The ridiculously easy way to tether your laptop to your phone, over USB or Bluetooth, without rooting it.
If you don't wanna cough up $30 for the full version it'll still connect to non-https:// addresses just fine.
$24
---
From the App Developers: PdaNet provides you with FULL Internet access so all your email, instant message programs will work without any setting changes. Supports both USB Tether and Bluetooth DUN. PdaNet does NOT require root access or hacking your phone's firmware in order to work. It is just a regular Android application that works on all Android phones as-is. Tethering is fast, secure and USB mode will also charge your phone at the same time. Your phone can either connect to 3G data, WiFi, or even through VPN and PdaNet will share the connection with your computer.
<< Scan QR code to get the app!