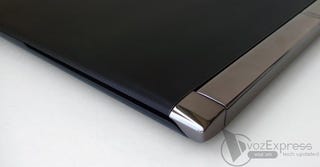 There's no official confirmation yet, but it looks almost certain that Toshiba is gearing up to launch the lightest 13-inch notebook ever. We're talking just over two pounds with an SSD. But how on earth did they do it?
It's not the processor. The info unearthed at vozExpress indicates that the mystery laptop will coming in standard voltage Core i3, i5, and i7 varieties—pretty standard these days.
Instead, look to the battery: this new Toshiba's going to employ a second Super Charged ion Battery (SCiB) that we'd previously seen achieving 90% charge in ten minutes. That was back in 2008, so we could see improvements even over that. The laptop's honeycomb rib structure, another first, will presumably also save some weight.
Other presumed specs: up to 4GB memory, 500GB hard disk or a 512GB SSD, 16:9 aspect ratio, and USB 3.0. Not to mention the "Blaze Mountain" cooling system, which at the very least sounds impressive. But that kind of power with that little weight, and a sleek design to boot? Yes, please. [vozExpress via Engadget]