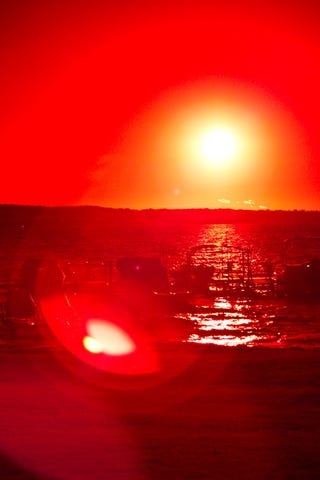 For this week's Shooting Challenge, you were asked to reignite our interest in lens flare. And, at least for me, you did.
Lead Shot
Canon T2I, 55-250mm EF-S mount lens, Opteka infrared filter. ISO: 1600, focal length: 55mm, f/4.0, shutter: 1/10 sec.
-Gilson Siegel
From the Heavens

Shot with canon 450D, + sigma 30mm 1.4, ISO 100, f16
[Ed note: a perfect candidate for our staged scenes challenge.]
-Matheu Petley

Nikon D40x, Nikon 24-55mm lens, f.22, Exposure: 14 sec, ISO 200
Taken at 22:55, as it gets dark in London around 10 on Charing Cross Bridge by the London Eye.
-James Murray
Mother and Child

Camera: Canon 40d
Lens: Canon EF 17-40L f/4
Exposure: 1/500 sec @ 17mm, f/10, ISO100
Location: Lakeside Park, Port Dalhousie, Ontario, Canada
-Andrew O'Hoski
Beach Cruiser

Canon 20D
ISO 400
f/19
speed 600
Taken of the misses on rented beach cruisers on our vacation to Seacrest.
[Ed note: Note the background color shift, the subject of the scene splitting it.]
-Michael J Straub
Bridge to Lens Flare

Taken with a Canon EOS 500D and 10-20mm Lens. 10mm, 1/320, ISO 100
-Charlie Davis
Leaves Meet Sun

Canon 550D (t2i) with Sigma 28-300mm
Shot at:
ISO 100 - 1/400 - f/5.6 - 217mm
Shot in my garden (Waterloo-Belgium) on a late sunny day throughout the foliage of a young tree.
-Claude Sadik
Vintage Flight

Camera: Olympus E-P2
Lens: Vintage Olympus Pen 40mm f1.4
Shutter speed: 1/640 s
Aperture: f16
ISO: 100
[Ed note: This could have been taken from a plane today. It could have been taken 50 years ago, too.]
-Matt Johnston
Enlightened Duo

Canon SX210
Lens 5.0 - 70.0 mm
Aperture 3.625
Flash enabled
We were exploring a new road when we came upon this quiet little home built between strands of barbed wire. I thought the sunset really brought it together with the brush in the background
[Ed note: I adore the make-shift duo of flares, one sun, one web.]
-Juan Ozuna
Turf

Canon 350D
50mm f/1.4
1/1250 sec.
ISO 100
Lazing on the Grass, in the Afternoon Sun.
[Ed note: Light and texture. Everything you need.]
-Toan Tran
Ménage à trois

Shot was taken with a Nikon D90, 18-200mm zoom, and B+W UV Haze
Filter. The halo ring effect is produced at 18mm pointed directly at
the sun. I used random people walking along Puget Sound as subjects.
[Ed note: An almost spherical flare creates frame within the frame, a transparent vignette.]
- Nick Sprankle
WINNER

Nikon D90, 18-105 kit lens, shot at - 85mm, f5.6, 1/200s, ISO 100.
Saturday was the first sunny day in weeks in Idaho. Shot this early morning ray of light that
illuminated two flower buds
[Ed note: Too much light, counterbalanced by subjects that had just enough illumination to stand out from the dark. Wonderful composition.]
-Mike Beiser
Thanks again to everyone who participated. If you still don't like lens flare after this, well, I guess you just don't like it. Full galleries below.
Note: Want these in wallpaper sizes? Check our flickr page.