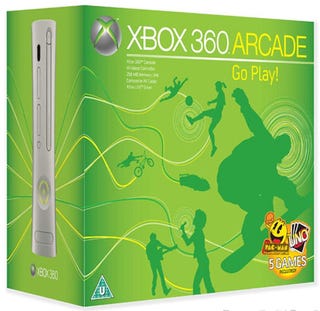 We've heard whispers that the good ol' Xbox 360 Arcade would get a price drop soon and now Walmart has not only confirmed the $50 price reduction, but announced a game bundle offer complete with a bonus $50 giftcard.
Here's what Walmart told us:
Microsoft today reduced the price of the Xbox 360 Arcade and Xbox 360 Elite by $50. That translates to $149 and $249 at Walmart stores nationwide, while supplies last. For Father's Day, your readers will find the best price and bundle only at Walmart.

Snag an Xbox 360 Arcade for $149 plus a $50 Walmart gift card, two bonus games (Banjo-Kazoole: Nuts & Bolts and Viva Piñata) and a wireless controller. The console has 256MB storage and comes with a composite A/V cable and 30-dayXbox LIVE Gold membership

The Father's Day gift card and bundle from Walmart started June 13th and will be available on top of the new price reduction through June 20th.