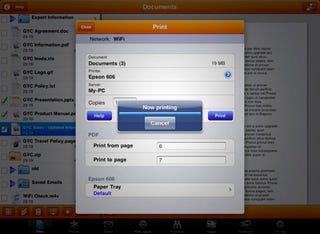 If you've ever looked for the option to "print" from your iPhone or iPad, well, you probably came away disappointed. But where there's a will there's a way, and that way is PrintBureau. We're giving away 40 copies. Update: Gone!
There are plenty of different ways you can sneak a document or web clipping from your iPhone or iPad to a networked printer, and PrintBureau collects all of them like a printing Swiss Army Knife. It'll let you print directly to WiFi-equipped and networked computers, whenever possible, or print via server software on your Mac or PC. You can print mail attachments and iTunes-synced documents on the iPad, or ones you've grabbed from your iDisk or Dropbox account on either platform.
PrintBureau also has a built-in browser, email client, and maps app for searching out and printing stuff from the web. OK, you say, you want to get printing! EuroSmartz Ltd, the developers behind PrintBureau, are giving away 40 copies of the app normally $15, to Giz readers. Ready, set, go: email pb_2106@eurosmartz.com to get your code. Update: All gone! If your fingers weren't quite fast enough, you can always check out PrintBureau on iTunes.
Thanks to EuroSmartz for helping out with this week's giveaway. If you want to see your iPhone, iPad or Android app in the Monday App Giveaway, shoot us an email.