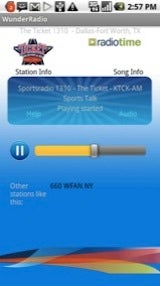 WunderRadio, a beloved radio streaming app on Windows Mobile and the iPhone, gives you access to over 36,000 radio stations on your Android phone.
You can tune in to AOL Radio, Bloomberg, BBC, or search for more stations manually or by your location. It's different from Pandora, in that you're actually listening to real stations and not customized playlists.
$6.99
---
From The App Developer: WunderRadio provides a quick and easy way to listen to thousands of streaming Internet radio stations and other audio streams on your Android phone. Download the application today and browse the enormous directory of stations provided by RadioTime, searching by location and over 400 different genre such as music, talk, sports, and entertainment.