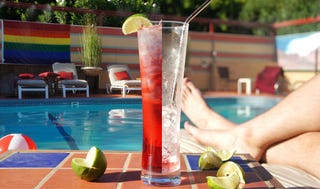 Camera: Sony alpha NEX-5
Left Picture: 1/10 sec, F25, ISO 200
Right Picture: 1/800 sec, F4, ISO 200
I was on vacation in the desert this week when I saw this challenge. I thought a diptych would be a fun way to show the after effects of a cocktail or two. I tried to keep it subtle by increasing the depth of field for the after shot, closing the aperture and blurring out the back a bit. CHEERS!
-Adam King

Nikon D60 with my 55-200mm zoom lens. 1/500, f/5.6, ISO 800.
I took this at the Rogers Cup semifinal in Toronto last night. The match featured Roger Federer and Novak Djokovic. I had the Shooting Challenge in mind when I went so I was trying to get shots of the two players in the same "pose," and this was the closest I got. Federer won in a pretty exciting match and I'm watching him in the final on TV right now!
-Albert Choi

Canon Rebel XSi f/14.0 ISO 800 Standard kit lens.
Staring at this, most people wouldn't know what the subject of this photograph is. Some cyclists might though, as it is the front and back of a Specialized brand helmet (Propero). I always found helmet designs to be very radical and unusual, and so for this challenge I took my helmet, snapped a pic of the front and back, and cropped/resized so they fit. Came out pretty good too, could have been better though if I had a whitebox, or if my helmet was a different color.
-Alex Chiu

Nikon D300
AF-S DX 18-135
ISO 200
50mm
F/5
1/160
These were taken in Battery Park on Sunday August 15th. The idea of the shot was to keep the perspective and view of the walking bridge in the background.
-Alex Reppen

Nikon D60 with a 18-105mm Nikkor (@18mm)
100 Fixed ISO on Aperture priority @ f/22... one shot ended up at 1/20s and the other at 1/15.
After a long day of shooting and wandering in NYC, I ended up staring at this beautiful scene looking out from South Street across to Brooklyn. Only one word entered my mind: diptych.
-Alex Weller

Nikon D3000
Nikon DX, AF-S Nikkor 18-55mm
ISO: 800
Aperture: F9
Shutter: 1/320
I am not a professional photographer, so there is no way that i would be able to decide when to take the pictures.
I had been thinking about this challenge since yesterday, wondering about what could my diptych be about. So today after running some errands, I entered my room and remembered that i needed to sell my electric guitar, and suddenly BOOM, the idea came to mind.
I know these are not the best and probably I wont win this time, but since this is the first time i participate in a shooting challenge, can take it, the pictures will eventually get better… I hope.
-Andres Ballesteros

"The Holdout"
Taken with a Panasonic Lumix DMC-T25 point and shoot, no special settings. Processed in gimp, simply overlaying each photo onto itself to bring out the color/texture. Our thorny Acacia tree in our front yard has dropped almost all of its beans, except for a few final few holdouts. The first photo of the diptych is a holdout bean, and the second photo is the bean's ultimate fate. Taken mid-afternoon to catch the shadows.
-Anna Vickroy

Camera: Nikon FM (35mm film)
Lens: 50mm f/1.4 Ai-S (manual focus)
ISO: 125 (shot on Ilford FP4 b&w film)
I shot these two photos at night on South Beach in Miami. I was just wandering around with my camera and I liked the lines. I believe it's an office building of some sort.
The shots were handheld, probably wide open at f 1.4 and 1/30 but I honestly don't remember exactly and unfortunately there's no nifty EXIF data to remind me.
I developed the film by hand in the photo lab at my school and then scanned it with my new Epson V500.
Opened the scans in iPhoto to fix a few pieces of dust which were scanned along with the film and then I added a white border on the sides to make it a little wider.
-Benjamin T

I was looking for a couple of shots that would either contrast or complement one another. With the summer heat bearing down, I settled for the contrast of my wife enjoying the relative cool of a nearby park (right) compared with the suffocating heat of the concrete jungle just outside our apartment.
Shooting Info: Sony A550, Sony 50mm F1.8 lens wide open, ISO-200, 1/500 sec., respective shots taken 2.5 hours apart on the same day. Diptych put together in Photoshop.
-Ben Torode

Taken with a Canon PowerShot S90, 1/3 second at f/7.1, ISO 80.
Two close-ups of a (honest-to-god) $200 paper plate we bought from an art gallery in Port Townsend, WA.
-Brian Hall

First off, a friend shot the 2 portraits of me using my Panasonic LUMIX DMC ZS5. The Lens was set at 28 mm, the Speed was 1 / 400th Sec. and the Av was F 5:6. The ISO was set at 100. I used Photoshop CS3 to manipulate the Images. I removed the Background from both Portraits, and the Center Panels from the Frames. Then inserted a Gradient, then pasted the Portraits into the Frames... There was a lot of Fiddling with the Images to get them to where I wanted them... Had Lunch and took a Nap... Then... Exported the whole shebang to Adobe Elements 7 and configured them for the proper sizes... The Idea was to show myself poking myself in the eye... It Hurt !
-Charlie Carroll

Shot with a Canon 5d Mark II and 100mm f2.8 macro lens. Shot wide open, 200 iso, with a 1/2000 shutter speed, underexposing the shot by a third.
I set up my 24-105mm on my friend's 7d, and lined it up with the pictured flower. My 5d was on a video tripod for an easy, level pan, such that both the flower and the lens were in focus. Then, I just waited with my finger poised on the remote shutter for one of the massive bees zooming around the garden to cross the focal plane — each time one did, I tried to capture it. Eventually I got one in focus and where I wanted it, and I just panned the camera over and quickly took the second shot, of the 24-105. Very little photoshopping needed, just brought the exposure up to neutral and put the two shots together.
-Charlier Dwyer

This is the metro station in downtown los angeles, and a little trick of perspective. the station only runs down a single direction, but with the pictures taken from the opposite walls and then merged together where the fixtures line up, it looks like two lines heading off at right angles. but there's really only one row of pillars, one escalator at the far end, and the people waiting on the left are the same as those waiting on the right.
Taken with a lumix dmc-zs1 running on auto. I don't see this working as a wallpaper; the images are just too busy. (plus, the full-size images have far too much noise.) but the whole is better than the parts.
-Dave Pomes

Canon EOS 7D, f/20, 1/125, ISO 100, 38mm
I knew exactly what I wanted in this photograph. Now that the sun is down I realize the mistake I made!! I could have been a contender.
-David Lantz

Canon 20D 200mm - ISO 100 - f/2.8 - 1/13
All week I was racking my brain for what to shoot for this contest, the weekend was coming to an end. Then, my beautiful girlfriend found this brass deer at Goodwill. The rest is history.
-David Nemerson

Light post: Canon Rebel T2i, Focal Length 55mm, ISO speed 100, shutter speed 1/250, aperture 10.0
Electric Ave. sign: Canon Rebel T2i, Focal Length 55mm, ISO speed 100, shutter speed 1/500, aperture 8.0
Story: This is my first submission! —I was inspired by my cousin Jorge to give this a try after I bought my T2i a few weeks ago... So... after a failed attempt at doing the abstract challenge, I took this one more seriously and woke up bright an early with some ideas for my diptych. On my way to the site where I would shoot one of these ideas, I drove by Electric Av. completely by accident. When I saw the ridiculous jumble of cables on the light post right on top of the sign, I laughed at the irony of it (I bet they didn't call it electric av. for that reason), reversed my direction, and took pics for like 10 mins. Today (Sunday) I've been comparing this diptych with a different one I have that I also like a lot, but ultimately decided on the Electric Av. concept because of its vibrant colors and because it is the title of a ridiculous early 80's song. Enjoy!
-Diego Jimenez

Canon T1i, EF 85mm, 1/80 s, f/1.8, ISO 100. I had an excuse to visit
the IKEA in Ybor City for the first time and ended up taking a few
handheld shots around the store. This is on the second floor in the
dining area, and clouds were passing by causing the entire place to
grow dim. I changed the area of focus and allowed the cloud coverage
to darken the building a bit before taking the second shot. I took the
liberty of decreasing the saturation on the second photo to create a
larger contrast, but the sky did a lot of the work for me. There is
something about the clean symmetry that permeates IKEA I enjoy, and
the dining hall's long rows of lamps and tables may be the clearest
example of their style.
-Drew Coffman

"Fire and Ice"
When I read the challenge for this week about dyptichs, I thought about some of the places that I have lived. I formerly lived in the north where it is frequently cold and now live in the south where it is often very hot. This brought to mind Robert Frost's poem Fire and Ice.
Fire and Ice
Some say the world will end in fire,
Some say in ice.
From what I've tasted of desire
I hold with those who favor fire.
But if it had to perish twice,
I think I know enough of hate
To say that for destruction ice
Is also great
And would suffice.
Robert Frost
So I made this dyptich using some red crumpled tissue paper back lit with a
desk lamp for the fire and a piece of glass frozen in my freezer for the
ice. Then I merged them together and penned this poem.
I lived in the north times cold as ice
Then in the south oft blazing hot
in spite of all both places were nice.
to choose between the ice and fire
I'll take the warm when I retire.
-Duane Sager

Nikon D3000, 18-55mm lens at 18mm, 100 ISO, f/5.6
I wanted to find a concept or idea that couldn't be captured in just one photograph. After thinking for a while, I came up with a magicians hat. It's the perfect concept for a diptych, but I don't feel like I pulled it off very well. The photo is supposed to be of a beleaguered amateur magician who lost his shoes in his hat.
-Dustin Chan

Both photos were taken with a Canon Rebel T2i and kit lens. ISO 800; f5.0; 1/25.
I had originally planned to use one or the other of these photos as one half of a completely different diptych. Ultimately, though, I did kind of a "more is more" thing and used both of them.
-Federov

The two photos were shot on a beach of a lake in Toronto, Ontario, Canada. After reading the requests of diptych contest of Gizmodo, I thought gees, it was easy to apply our Ladybug Mixer software on Windows to make a diptych photo. Simply input two photos in each channel, I selected the shader of zone blending on dual channel, and adjusted the alpha value to get a better result. Snapped the fullscreen and cropped the photo, I generated the the final picture. The wave makes two photo to blend in smooth. It was interested to have two focus on a blended photo.
-Chang Li

My dog and this squirrel are secretly in love. This is how they spend most days — my dog sits under the tree looking up and whining while the squirrel sits in the tree looking down and chattering.
The contrast of sun and shadows in and under the tree really along with the fact that the animals were constantly moving and the suirrel blends with the tree made this a hard subject. Unfortunately, I couldn't wait for a cloudy day to enter the contest. I shot it with a Leica X1 with the pop-up flash activated for a fill light and ISO 400. The squirrel is f5 1/200. The dog is f5.6 1/640. I cropped and adjusted levels in Photoshop.
-Fred Facker

Canon PowerShot SD750
f/13
1/60sec
-Gigi

I was stumped what to do for a diptych until I went for a drive.
The first shot was taken in the "country" with my Panasonic GH1, 1/200 sec, f/5, ISO 125, 14-140mm lens set to 14mm.
Then I drove "downtown." Panasonic GH1, 1/200 sec, f/6.3, ISO 100, 14-140mm lens set to 14mm.
I tried to get the same vanishing point in my view finder, did some realigning with Photoshop, a quick blend, and ...
-Jeffrey Mason

Canon T2i, Sigma EX 10-20 lens @ 20mm, 1/30, f5.6, ISO 400
After paying more attention to these old alarm switches in my house last week for the abstract challenge, i decided to revisit and reshoot them as a team. I feel like they were actually far more fitting for this week's challenge, as one stands guard outside of the main entrance (right) and one is the last line of defense on the inside (left). These guys are watching you. Trust me.
-Jody Abbott

This is two shots of flowers after it rained in Baltimore. One hasn't opened yet, the other is in full bloom. I used a Canon Rebel XT and a 50mm 1.8 lens at f/1.8, 1/400 sec ISO 100 for the left shot, and f/3.2, 1/320 sec ISO 100 for the right shot.
-Joe Russo

I had a hard time deciding what to shoot, I really couldn't figure anything out. I saw my clock and though something subtle would be nice, so I did a 2 second exposure to show some movement and shot one in black and white and the other with sepia, changed the time in both shots and made sure the pendulum was on opposite sides when the flash went off. I used a Canon Rebel XSi with a 2 second exposure and an ISO of 100.
-John Barton

Nikon d40 18-55 kit lens at 55mm.
f/5.6 1/500 sec. Shutter priority and Built-in flash at 1/32 power
Stream of water
Put the camera vertically on a tripod facing the kitchen faucet and opened it up enough to get bubbles in the water stream. Took two pictures with different color shirts as the background.
-Jorge Jimenez

"Lonely At The Sandwich Shop"
Nikon D90
Lens: 50mm f/1.8
ISO: 200
Exposure: 1/160th sec at f/1.8
This was taken at Ye Olde Fashioned Ice Cream Shop in Summerville, SC (best burgers in the south!) My daughter was sitting at the counter waiting to get a drink refill, and I was shooting the classic looking red stools against the blue background and I thought she looked pretty lonely at the counter all alone with her Elmo T-Shirt that is begging for attention, so I then pointed the camera at her. I think the lone stool next to my daughter captures the theme of loneliness.
-Joseph Nienstedt

Nikon D700
50mm f/1.4D, 1/750s @ f/2, ISO 200
105mm f/2.8, 2s @ f/22, ISO 200
A while ago, I had a coffee at Starbucks and the lighting was fantastic, but I didn't have my camera on me (major faux pas). I took this challenge as an opportunity to re-create the moment.
The 50mm shot was done in store, with the natural lighting.
I took (part) of the muffin home to do a macro on a tripod, also with natural lighting. It was pretty tasty.
-Kevin Chew

Canon EOS 7D
EF24-70mm f/2.6L USM
Left shot: ISO 100, 70mm, f/2.8, 1/3200
Right shot: ISO 100, 67mm, f/2.8, 1/640
Strapped on my 7D for a walk around Brooklyn and snagged a few shots. I'm a sucker for ( metal + light ) / bikes.
-Kyle Jones

Nikon D3000, no flash auto
This photo pretty much sums up student exchange, and since my exchange brother is leaving on Wednesday I thought it would be nice to submit this. I'm the one with the American flag and he's the one with the Finnish flag on his face. I chose those flags even though he's American and I'm Finnish because student exchange lets you live the life of someone else in a different country and this was a way of showing that. He did the face painting.
-Lauri Koponen

Camera: Sony A200 with 18/70 Lenses. ISO 100, 18mm, f3.5 both pics.
Bored by a rainy Saturday in Luzern (Switzerland - I work here, but originally from Italy), I convinced my girlfriend to follow me around the city to find some good material for my first shooting challenge. She did (much to my surprise, and mostly driven by my promise to offer a Starbucks), and after few attempts we landed at KKL theatre. I thought of showing the same location from two different angles to show how the architecture and the shapes blend together when walking up and down these stairs. The lights, the colors and reflections are magic. I adjusted the shots in Iphoto (saturation, exposition, and contrast) before stitching them up in Photoshop.
-Marco Raspini

Image 1
Canon PowerShot SD1400 IS
Image 2
Canon XSI
Canon 10-22mm @ 10mm
ISO 100
f/3.5
1/8 sec
Taking advantage of the weather this weekend we took a ferry out to Bainbridge Island on Saturday and visited Bloedel Nature Reserve. I asked my wife to shadow me with her point and shoot to show me capturing a photo. I then set the photo from the dslr as the wallpaper on my work laptop and I took a picture of that to show the intended purpose of the photo I captured (Original idea was to print the dslr photo at costco and put it in a frame and take a picture of that but I had to go into work so I had no time to stop by costco. Ironically I work at costco in the IT dept)
-Mark Lee

From a performance of a local bellydance troup, I selected two consecutive shots with some intriguing color and pattern. I used Photoshop to invert the colors, creating a second set of hues upon which the eyes can feast.
Nikon D70s, 70-300mm lens @ 210mm, ISO 200, 1/400sec @ f/5.
-Mark Reddick

I had a hard time deciding what to shoot for this challenge. I had quite a few pictures that looked good by themselves but nothing that paired up well. I ended up pairing these two pictures together. The first is a close-up shot of a 900-year-old Sequoia cross-section and the second is a piece of petrified wood many times older. I'm happy with the way the colors co-ordinate between these two photographs and hope it's along the vein of the challenge.
-Matthew Recker

Pentax K-x, kit lens
38mm w/macro setting
f5.6
6 seconds (and used "light" HDR camera setting)
iso 100
tripod with IR remote
Adjusted levels in PE6
combined using panorama in PE6
-Mellanie Fuller

Once more, puzzled about what I could enter into the contest, I thought of many different things to do this with. None worked out. So I thought I'd do something simple just in time. I was walking along some railroad tracks and I happened to have my camera (and tripod) with me so I started snapping. Shooting in manual exposure with a Polaroid i236 point-and-shoot camera, I shot with an exposure value of 1/80 seconds and at an ISO of 100. Minor editing in Adobe Lightroom 2. It was pretty dark.
-Michael Eicholtz

Nikon d90, 35mm 1.8G, 1/60 @ f4 w/flash
I was hungry this afternoon. This was a tasty snack. Admit it; you're jealous of my treat.
-Michael Masone

Olympus E30
50-200mm Lens
ISO 400
Location: Calgary, AB CANADA
I took this shot from my balcony during a hail/rain storm, I loved the towering clouds in the distance and leaned over the third floor railing to get the shot of this cloud. When I opened the shot in Photoshop later I realized the potential for your contest. Mirroring the image and then using the clone tool to get rid of the line to make the image a solid cloud. I then set out to use a few filters to sharpen the hail and rain in the shot and of course change the color to a more suitable nuclear explosion. The rain and hail in the shot and noise give an added sense of things, and I love the feel of the shot.
-Michael Thomas

Cannon Rebel XSi
Lens: Stock Cannon EOS 15-55mm
ISO: 100
F/4.5
1/45
External Flash: Cannon Speedlite 580EX II
Shot In RAW
Adobe HDR
I really don't have a story with this shot but I have been obsessed with my rubiks cube from cube4you for weeks now and after being able to solve it in less than two minutes I see it differently.
When I was a little kid I used to think it was an impossible toy and you had to be a genius to solve it now every hour I pick it up and solve it three or four times. So the reason I decided to pick my rubiks cube for the challenge is to show the difficulty of solving it to the awesome gratification of solving it.
-Michael Wasylyk

Shot this with my Canon 7D, 100mm macro lens, and ring flash. Used a tripod and a remote shutter release to get these shots. Connected the 7D to my TV via the HDMI cable and used it as my viewfinder. Patiently moved in and out of focus, triggering the remote shutter when possible to capture my eyes...one at a time. Then, created the diptych on CS4.
-MigFig

"Coming and Going"
Picture 1: S100FS / 1/200s / F8.0 / 10.7mm FL / ISO100
Picture 2: S100FS / 1/50s / F8.0 / 12.8mm FL / ISO100
This weekend was a "road trip weekend" for me. Basically, I got to spend the last 2 days with a old college buddy hunting through all of the nerd stores in the area for toys, comics and action figures. It's pretty much the movie version of the Fugitive if Harrison Ford had been replaced by a 3 3/4" action figure. I decided to make a picture of what I saw most this weekend — views of traffic from the inside the car.
-Mike Case

Shooting summary: Nikon d300s, ISO500, 35mm Prime, f/7.1
I was out Djing a wedding this weekend, and had the Nikon & Tripod in tow. I figured it was the perfect opportunity to get some practice in, because I'd like to start shooting weddings and events at some point. During cocktail hour I had a mix on (slacker) and took the opportunity to shoot around. After taking some candids I realized the reflection in a nice set of aviator style sunglasses looked really cool, and then I remember the Gizmodo shooting challenge. Not sure if this picture technically counts as a Diptych, but the sunglasses help bring two images together without the use of photoshop.
-MRichardson

Canon Rebel XS with 18-55mm lens @ 28mm
1/3000 f/5.6 @ ISO 800
I was on my way to Delaware when I stopped by a construction site. They were building cookie-cutter houses. I found two right next to each other, one complete, and the other made only of wood frames. I especially like how the road on the right side is made of gravel making the juxtaposition even more extreme.
-Nick Cheng

Nikon D90
18-200mm lense
f4.0
ISO 800
I was tempted to skip the shooting challenge this week as my plans
fell through, so I figured 'temptation' was an appropriate sub-theme.
-Nick Sprankle

Shot with a Canon EOS Digital Rebel XSi. I was surprised at how arranging the order of the two pictures changed the story, and decided that this one was better, and also a bit closer to the truth of how our walk turned out. Shot at Nockamixon State Park in Quakertown, PA. Fortunately, we did eventually follow the yellow brick road back home again.
-Nicole Lombardi

For the first shot i had my Canon XS set for bulb in manual mode and i used a trigger for a 60 second exposure with f/7.1 ISO and 400.
For the second shot i again used the trigger and bulb mode for another 60 second exposure with f/6.3 and ISO 100.
I took these photos last night when i was walking the pier with some of my buddies. There is a small might house at the end of the pier to direct boats into the harbor and it has graffiti written all over it. i had read about this ohot challenge earlier thsi week and i have been loking for opotunities and i couldnt pass this one up. i wanted to get the light house properly exposed in one shot and then get the sky properly exposed in the second shot from a different angle. For the First shot i set my camera up on my tripos n the side of the pier about 50-60 feet away and took a couple shots with slightly different setting and i just liked this on the best. For the second shot I went around to the other side of the light house and set the camera to properly expose the sky so i would more or less just get a silhouette of the light house with the sky behind it, again taking a couple of shots with different setting to see what turned out the best.
-Paul Bierworth

"Sitting in Motion and in Waiting"
Both photos takes with a Panasonic Lumix FZ-35
The photo on the left: F-stop: f/4.5; Exposure time: 1/10 sec; ISO: 800; Focal Length 12mm
The photo on the right: F-stop f/8; exposure time 1/320 sec; ISO: 400; Focal Length 17mm
I used Photoshop to put them together and make some level adjustments and get rid of a small reflection on the right image.
I saw the challenge in between two trips and I was to busy to try to do it before I left for my second trip so I figured I would try to take care of it in transit, and I am very pleased I did. I was keeping my eyes open for shots as I was departing Sacramento and was trying some random shots when I saw the seat belt looking attractive. I am lucky I acted fast on that because soon after the isle and the seats filled up. After the first shot I was tying to find what the second shot should be, originally I was going to use a shot of the plane's wing, but it wasn't coming out well. As soon as I entered the terminal in Chicago I realized the second shot should be gate seating. At first I tried a couple near where I arrived, but later reviewing them before my flight I realized the composition was awful so I frantically whipped out my camera again at the gate from which I was departing and took a few more before all the seating filled up again, and that became the right shot.
-Peter Duff

Took these two with my iPhone 3GS as the weather went from sunny to stormy in the time it took a cloud to pass in front of the streetlight in front of my apartment. Cheers.
-Peter Sorrell

Nikon D200
Sigma 18-50mm f/2.8 macro
ISO 500, 1/80th, f/13
Nikon SB600 shot on top of lens pointing at eye. *Disclaimer- I was at 1/32th power, so the flash wasn't too bright :P
Subject- Myself
I was inspired by this shot (http://gizmodo.com/5605746/no-digital-camera-will-ever-top-these) which just makes me shiver every time I see it.
I don't have extension tubes, nor a flipped lens to achieve more 'macro', so I had to do best with what I had. Pretty cool to see my iris that close up. Neat stuff.
-Phil Sieradzan

Canon EOS DIGITAL REBEL XSi
Lens: EF 50mm 1/4f USM
Shutter Speed: 1/250 sec
Apture: f/3.5
ISO:200
So this challenge was hard! I wanted to shoot something that wouldn't be a landscape... Lucky for me my work shares a parking lot with a hotel and there was a muscle car out back! my lucky day! so i tried various shots trying to see how i could brake up the car in two.... :-) It was fun but i wish i had the 24mm on me instead of the 50mm :-( then i wouldn't have had to step back so much!
-Randi Warner

Canon XS, EF 70-210 3.5-4.5 USM zoom
Left Photo: ISO 400, f/5.6, 150mm, 1/2000
Right Photo: ISO 200, f/5.0, 210mm, 1/1000
Saw a field of these flowers, some in bloom and some past their prime, and thought of this week's challenge. Got all "Circle of Life" with the two photos, processed them in Lightroom, and then added the border and combined them with the GIMP.
-Robert Kalnitz

Camera: iPhone 3GS
Apps: Picture Show and Diptic
I took both of these pictures at the Indiana State Fair this week. They are both huge fiberglass (?) statues- one of a cow and the other a recreation of the famous painting American Gothic. I changed the colors of the photos using the DuoTone setting in the Picture Show app and then combined the two images into a diptych using the Diptic app.
-Ryan Clark

So after reading and loving photocontest for what seems like forever, I finally got my first Camera, Canon 500d.
I went straight out with it to Edinburgh in Scotland for the Fringe festival, and had precious little battery time to play with as I couldn't get it charged. Anyway came across this flower clock. Too the first snap with the kit 18-55mm lens, at 18mm, with f=7, 1/25 and iso 100. After the first one I was almost scared to take many other photos today, and when I came back for the second I didn't have enough power left to have a look through the pics to see what angle and settings I took the first snap at, so the second is at 18mm, with f=6, 1/60 and iso 200.
Although the different methods will account for the change in the brightness, I can assure you that because within the two hours between taking the photos the light had deteriorated significantly.
Anway, I hope the slight offset in angle isn't too much of an issue. But I like the picture telling the story of my first day with my new camera, and the day out at the Fringe Festival, where I also happened to meet Jennifer Coolidge, AKA Stifler's Mom!
What a truly great day out.
-Ryan Cormack

Gear: Nikon D90, 18-200mm VR
Settings: 18mm, 120 second exposure / 60 second exposure, f/11, ISO200
I've always liked long exposure shots, particularly of traffic. When I read the challenge for the week, my first thought was some pair of photos that kind of had a yin-yang vibe to them. The two shots were taken over I-93 in Manchester, NH. Both were taking facing north, so the tail lights are the northbound lanes and the headlights are the southbound lanes. It started raining as I was driving to the bridge, so I think the wet road helped the appearance. In post processing, I reduced the exposure of the southbound shot and increased the exposure of the northbound shot to try to get them closer together. After that, I just cropped them down to something that I thought looked good. When it came to combining them, I played around with putting them side-by-side before I decided to rotate the southbound image and line them up vertically. It made for a sort of explosion of light.
-Ryan Powers

Nikon D5000, Stock 18-55mm Lens. F7.1 1/40 s, ISO 400
I walked in my bathroom and seen the way the sun was setting look really cool through the window. I love owls so grabbed a couple necklaces from my car and hung 'em up! I'm pretty pleased with the end result!
-Sam Katz

Nikon D90, Lens - Nikkor 18-200
Came across these two sites while on a walk by the waterfront in West Village, NYC.
-Shubha Murti

The camera is a Pentax K-x, with a 300mm telephoto at 55mm focal length, ISO 400, f11, 1/100.
I took two photos of the horizon (different directions) just before a thunder storm came in. I hope having only file does not disqualify me to only have one file. I don't really know how to manipulate photos well with a mac. (I'm a recent windows convert). I pasted the photos together with Keynote and then edited them in Iphoto. I added the Black and White filter and upped the contrast on both. I rotated one so the horizon was on the top. I then placed both pictures in Keynote and saved it as a jpeg. I cropped out the parts of the slide that was showing and then hit the auto adjust button on Iphoto which essentially upped the exposure about 10%.
-Stephen Daily

"East/West"
Canon S90
f/2.0
ISO 80
1/500th (towards the sun), 1/200th (towards mountains)
Exposure/color adjustment in Lightroom 3, merged in Photoshop CS5.
Driving to work Friday morning, the rising sun kept glinting off the railroad tracks parallel the highway, thought it might lend some cool looking shots so I pulled over. The sun was rising (in the east of course), mountains in the background to the west. Didn't have much time to spend (not only because I was late for work but it's Friday the 13th and I'm knelling on railroad tracks, brilliant), so I tweaked exposure/color afterwards.
-Teryn Wilkes