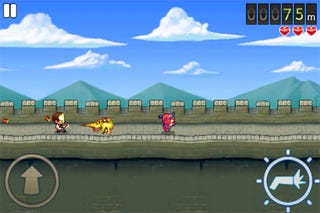 Monster Dash: A new running game from Halfbrick, the makers of Fruit Ninja—do I even need to keep going?—Monster Dash sends you scurrying as a tiny little cartoon man blasting away at a whole army of vampires, mummies, and other assorted baddies. Simple but highly enjoyable. $1

Nook: Oh Barrett…
Barnes and Noble already had one of the best eReader apps out there with Nook on the iPad. And now, the iPhone iteration just got some of those sweet personalization and lending features that give it some punch.
iPhone Nook users can now adjust line spacing, font size and style and justification, and can take advantage of Barnes and Nobel's LendMe feature to share books with friends. On the iPad side, there's now an in-app rating system, letting you share with the world exactly how much better you thought New Moon was than Eclipse.
Nook has also returned to the desktop, albeit in a more stripped-down form. Still, having a foothold across all platforms is important in the ebook reader space, just for that one person who loves thumbing through their netbook.
Free!

VEVO: VEVO, that sparkly subdivision of the YouTube metropolis that houses all the music videos, now has their own free app for iPhones and iPod Touches. It has every video in the VEVO catalog-over 22,000—and a bunch of social media type features that I didn't play with because I'm too busy working through Ciara's videography. Free.

Facebook: Kat says:
As expected, the latest Facebook iPhone app has been released, bringing with it the Places check-in functionality that was demo-ed yesterday. Version 3.2 of the app provides on-the-go tracking methods for friends, and new additions to photo upload.
For iPhones running iOS 4, you can now upload photos and videos in the background, but available on all versions of iPhone's OS are new privacy settings for status updates, and the aforementioned Places. As we've already discussed, we've got pretty severe reservations about Facebook Places, which allows friends to tag you in whatever location you happen to be in. Even if you'd rather not be tagged.
Free

Calvetica: For those who want to keep track of their appointments but don't want to have to stare at an ugly calendar to do it, Calvetica is a super simple, super graceful solution. It might not be feature rich enough for power-planners, but it joins Diacarta as iPhone calendars that are beautiful enough for me to consider actually writing my appointments down. $3

Cosmo's Sex Position of the Day: Frucci!:
Cosmo's sex advice always seemed a little suspect to me ever since the time a girl tried to press a cantaloupe up on my grundle mid-coitus*. But hey, maybe I just wasn't adventurous enough for her forward-thinking ways!
Cosmo's new Sex Position of the Day iPhone/Android app is just what it sounds like: a new, questionable sex position every day for you and your partner to try out. Sure, there are probably only a dozen or two legit, reasonable sex positions, but the other 340 are fine too, I'm sure.
Also, how likely do you think this app would have been to be accepted in the App Store if it wasn't from a major publisher? I'm going to go ahead and guess it would have no chance in hell of getting approved. But hey, that's the wonderful App Store approval process for you. Indie developers are always getting Passion Pretzeled.
$3 and 365 days of inspiration.

Puppet Wars FPS: Puppet Wars, a first person shooter which basically charges you with the task of brutalizing a more generic version of the cast of Sesame Street, just got a major update leaving it more enjoyable and polished than ever. Now there are zombie puppets, ninja puppets, and a survival mode, and it still looks wayyyy nicer visually than any game based on evil puppets has any right to be. Thank goodness for that! $2.

Photoburst: A rad little app for burst shooting with your iPhone, Photoburst allows you to take up to 10 shots a second, adjusting the number of photos and the time between them. $1

Stumble Upon: Finally, mercifully, Stumble Upon has brought its excellent time wasting capabilities to the iPhone (the iPad app has been out for some time). Works swimmingly, allowing you to quickly cycle through pages and assign them thumbs ups or thumbs downs. Stumble Upon's database of cool web destinations is getting better all the time, so if all your shiny little apps have bored you and you just want some good old internet action, it's definitely the go-to source. Free.
Also available for Android

Shopkick: Let's hear it from chronic shopper Kat:
Granted, it'll take a lot of clothes trying-on, or walking-in-and-out of Best Buy branches to actually earn enough points to redeem against an iPod Touch or Facebook credits, but this Foursquare-like app sounds like a lot of fun.

Having teamed up with a bunch of US chains like Best Buy, American Eagle Outfitters, Macy's, and The Sports Authority, users of the free app receive credits (or "kickbucks" as they're known) just for entering participating stores. Further kickbucks can be earned by trying on clothes, scanning a barcode on your iPhone, or even just picking up an item in a store.
It could get messy for store assistants, having to fend off Shopkick users who are obviously just trying on clothes to earn more points, but I imagine they'll quickly become accustomed to pointing out the chancer in a line-up.

Kickbucks can be spent as credits on participating stores' wares, or as credits on Facebook, on magazine subscriptions, song downloads or even donated to charity. It sounds as though it'll take a lot of check-ins to earn enough to get a freebie, with 1,250 kickbucks earning a $5 voucher to American Eagle Outfitters-that's a lot of visits to a store (which earns you 35 kickbucks), or a lot of walking-past-a-store (which earns just 2 points).

Over 600 individual stores, and 100 malls across the US will be installing Shopkick devices inside the walls, which detect the presence of a nearby Shopkick app. Users of the app can use the map feature to see exactly where the Shopkick stores are within proximity, and even see if their friends are inside a store-not just near it.
Free, aside from the heap of clothes you'll inevitably end up buying.

Epic Win: It's a to-do list app that's actually a role playing game, or I guess, a role playing game that's actually a to-do list app. Adam Pash from Lifehacker explains:
For each new item you add to your to-do list, you categorize it as a feat of strength, stamina, intellect, social (not sure that's a feat), and spirit. Like any good to-do list, you can also set up recurring to-dos. The app assigns the task a level of epicness (which translates to your XP points). When you cross an item off your to-do list, you also gain the accompanying XP points. Making sense? (Oh, and the best way to complete a task involves pressing and holding on a rosette [the badge containing the XP], which simulates a little battle you win. You can sort of see it in the screenshot, though it didn't turn out all that well.)

If you jump over to the Profile tab, you'll get a look at your current level and overall stats. You can also switch to the Loot tab to view your progress and loot, which appears to automatically advance as you gain experience.
Getting things done was never so fun. $3